Waxing vs. Shaving: How to Decide if Waxing Is Right for You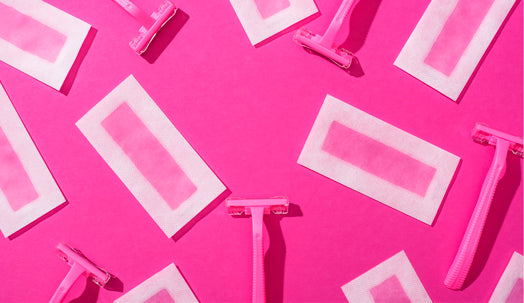 Waxing vs. Shaving: How to Decide if Waxing Is Right for You
It's been a dilemma for decades: Deciding between waxing or shaving can depend on a number of factors. From budget to skin type to schedule, there is much to think about before choosing a preferred method of hair removal.
Before choosing on their own, customers should consult salon experts about the waxing vs. shaving debate. As an esthetician, you have advanced knowledge of professional wax brands, as well as a much more informed answer to the question, is waxing better than shaving?
Waxing vs. Shaving: Which Is Better?
Each hair removal technique has its own pros and cons, just like different customers have different needs and preferences. It's important to understand the difference between waxing and shaving as well as what a client is looking for before simply suggesting one method or another.
Shaving is considered a "non-permanent" treatment because it cuts hair above the surface of the skin, rather than removing it from the root. Waxing is considered a "semi-permanent" method.
So, does waxing last longer than shaving? The answer is yes because warm wax removes hair from the follicle, and the hair will grow back more slowly than if it were shaved.
Shaving vs. Waxing Legs
The debate between shaving vs. waxing legs can be contentious.
It's very common for clients to shave their legs at home because it's quick and easy to do without booking an appointment. However, frequent shaving at home can cause skin irritation and even abrasions if someone isn't careful.
Shaving can also leave behind stubble, which is especially visible on fair skin. Make sure to mention this as your client debates waxing legs vs. shaving. Because waxing pulls hair out of the follicles, the treatment won't leave behind those pesky dark dots. This is just one of the main benefits of waxing over shaving.
When deciding on waxing vs. shaving legs, many consider how long the effects last. Depending on the thickness and how fast an individual's hair grows, shaving can keep an area clear of hair for an average of three days. A professional wax treatment will guarantee smoothness for about three weeks.
Bikini Waxing vs. Shaving
There are several ways a bikini wax can be done - a customer can ask for a complete wax of the pubic area or just of the surrounding areas that show during swimsuit season.
It isn't totally common for one's bikini area to be regularly visible, so it's not an area that needs daily upkeep. When discussing waxing versus shaving bikini area, one should know that getting a monthly bikini wax can be more cost-effective in the long run.
A client caught between waxing vs. shaving bikini area also needs to understand the many pros of professional bikini waxing vs. shaving. Not only is shaving one's own bikini area quite tricky, but it can actually be dangerous. At home, someone can cut themselves or miss certain areas, simply because they can't see the area properly
Waxing vs. Shaving Pubic Hair
The same benefits of waxing over shaving for bikini areas apply to the pubic area. Especially in such a sensitive spot, there's an emphasis on safety when deciding between waxing vs. shaving pubic area.
In general, waxing is already the most preferred method when deciding between waxing or shaving pubic area. The long-lasting effects and smoothness guaranteed by waxing beat out the efficiency and accessibility of shaving. It shouldn't be too difficult to convince your client of the clear choice between shaving vs. waxing down there.
Because waxing causes minimal friction, this method is less likely to cause ingrown hairs. This is essential when thinking about Brazilian waxing vs. shaving, as complications in the area can be particularly difficult.
If a customer is worried about wax being too hot when thinking of waxing vs. shaving pubic hair, offer the option of hard wax beads. These melt at lower temperatures and can be just as effective as regular hard wax.
Waxing Your Beard Instead of Shaving
If a client is considering waxing beard instead of shaving, remind them that waxing will reduce the appearance of stubble. Waxing will leave a much smoother look for a longer time.
It can be pretty painful for a first-timer, but the pain is fleeting. Depilatory creams and exfoliants will help ward off post-wax difficulties, including redness.
The Benefits of Waxing Over Shaving
Getting a wax done at a salon requires more planning and a bit of a bigger budget, but being able to visit once a month as opposed to shaving twice a week is an attractive option.
The best benefits of waxing over shaving are its long-lasting effects and smooth results. Waxing minimizes the appearance of stubble, and post-wax redness doesn't last nearly as long as razor bumps. Especially when done by a professional, waxing is also a generally safer option, especially for the pubic area.
Shaving After Waxing: Yay or Nay?
If a client is considering going back to shaving after waxing, let them know that it can irritate the skin if it's done too soon. The skin needs to heal after a waxing session, so putting a razor to it too soon can be painful.
While it isn't a dangerous decision if done after the right amount of time, shaving after waxing will produce different results. Hair will grow back more coarsely than if it is waxed. If someone is satisfied with the results of a professional wax, it's much better to commit to the continued treatment.