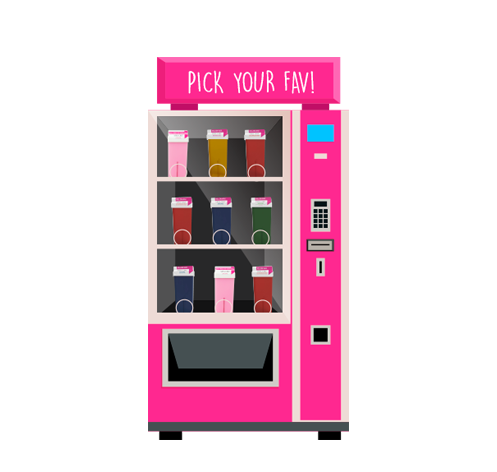 Roll-on wax system
Using the latest advances in skin care and hair removal products, our experts have developed a special line of roll-on waxes combing ingredients to moisturize and repair skin while gently removing unwanted hair. Our formulations get melted and a very low temperature, providing a pleasant hair removal experience with minimal discomfort or redness after wax.
Easy and clean!
Roll on wax means no drips and no mess! Perfect for busy salons with a tendency for sanitary wax options...simply use and discard - no risk of double-dipping! This waxing system reduce treatment time and last longer, enabling more treatments per day and increased profits for your business.
Shop Hard Wax

Frequently Asked Questions
Miss Cire uses a unique formula with vitamins, essential minerals, antioxidants, pigments, and other natural ingredients that deliver salon quality results. Our professional waxing products allow for a smooth and painless hair removal process, moisturizing the skin while reducing irritation at the same time.
Clean the skin with Miss Cire's pre-depilatory cooling gel. This will remove sweat and any product residue from the skin, besides providing antiseptic protection to the area. Apply the wax directly from the roller onto the skin (hold the cartridge at a 45-degree angle on the area you want to wax and press gently while moving the cartridge along about 35 cm. Do this motion in a single swipe so that the wax will come out evenly in a thin film. Now you are ready to press the non-woven waxing strip paper on the wax in the direction of hair growth and removing it against, all while keeping the skin taut. DO NOT re-apply on the same area more than once. Remove any strays with the same non woven strip you have already used. Last, use Miss Cire's Post-depilatory emulsion to remove any wax residue and soothe the skin. Roll-on waxing is quick and mess-free for either the professionals or waxers at home.
Roll-ons eliminate any problem related to cross-contamination. This type of contamination can arise in wax pots where previously used spatulas are re-dipped after being used – this is called double-dipping and it's an unhygienic practice that no wax salon should ever fall into. Roll-ons contain the perfect amount of wax for one or several treatments and they can be used on a single client without the risk of contamination since the remaining wax in the cartridge never touches the skin or is exposed to the outside. No risk of external agents like airborne bacteria, dust or hair getting into the roller. Roll-ons are heated evenly when a suitable warmer is used, which allows the whole application process to be done without delays.
Miss Cire's roll on system is meant to be disposable. After you are finished with your service you will dispose the wax cartridge. It cannot be refilled.
No you cannot, you will need a roll on wax warmer. It is not recommended to use a microwave or stove. In fact, doing so can be very hazardous.
Our roll on cartridges are European standard size 3.9 Fl Oz = 100 ml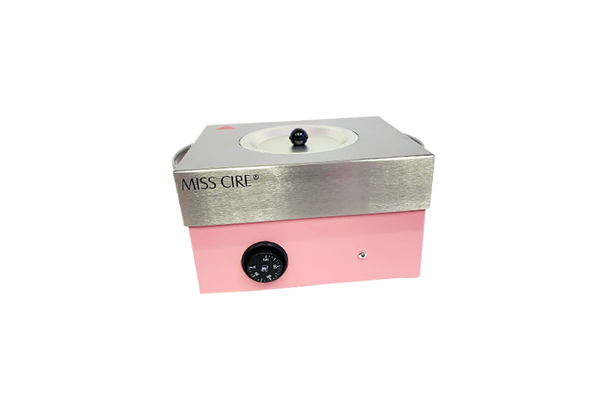 Professional Wax Warmers
No matter what your salon's needs are, we have the perfect wax warmer for you. Miss Cire offers an amazing selection of depilatory wax warmers for spas, salons and waxing professionals.
Wax Warmer kit
Our heavy duty professional wax heaters have been developed exclusively for professionals. Our depilatory equipment is designed from start to finish to be ecologically friendly, highly durable, and cost-effective in its power consumption. Please visit our
waxing kits
selection to find out about Miss Cire's wax warmer kits.
Shop Hard Wax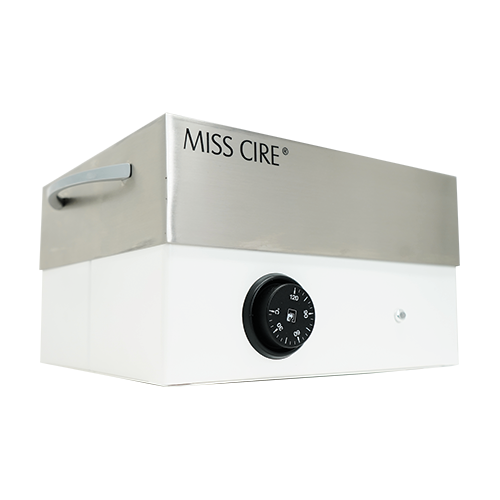 Frequently Asked Questions
If you are looking to improve the quality of your services with the best wax pots, you are in the right track. We have discovered the best alternative to a faster melting process. Our high-quality professional wax pots are constructed with an omnidirectional heating element that guarantees evenly melted wax in 20 minutes or less.
First, turn on the wax warmer and turn the dial all the way to the highest temperature. Leave the pot on for about 15 minutes (time might increase depending on how much wax you need to heat up). Next, turn the dial to about the midway point and leave it there. Begin stirring the wax on the outer edge so it starts to warm the wax in the middle of the pot. You can also add more wax beads to the pot to help cool the wax down. Continuously stir every couple of minutes until the center block of wax has completely melted. You might need to adjust the temperature throughout the day depending on how the wax is reacting. The wax should move similar to honey when it's ready to be used. When you are finished for the day, turn the dial all the way off and turn off the pot. Then, place the lid on the pot to cover the wax and you are done!
We do not recommend using a microwave to heat up the wax. This can be extremely dangerous since every microwave has different wattage which can cause severe burns to your skin. A stove will cause the wax to burn due to overheating. A wax pot is the only way to ensure the wax reaches the correct temperature in a controlled and safe way. 
When using Miss Cire's Wax Warmer we recommend waiting an approximate 20-30 minutes using the highest temperature setting. Once the wax has reached a full liquid form you must lower the temperature on your warmer to a low mid-level setting and allow for the wax cool off. Proceed to wait an approximate 15-20 minutes until the wax has reached a honey-like consistency.
It's probably been applied too thickly or the temperature of the product is too hot. The room environment is important – it's easier to work in a room with the temperature around 22 degrees. A fan or open window helps to keep the skin cool. A specific temperature is not what you're looking for, but instead look at the consistency of the wax. It should move like honey or molasses. The correct hard wax temperature is a varied answer depending on the size of pot, amount of wax in pot, type of wax you're using (not all hard wax melts the same; ex synthetic vs organic), amount of wax you have on your stick.  The trick is "The Flip" -In time and with experience you need to pay attention to how your wax moves once you get it on your stick.
Miss Cire offers a large selection of professional wax warmers specially made for both Hard and Sort wax. The reason we have designed both is to enhance the performance for better functioning. When heating a can of soft wax, the main idea is for the wax warmer's walls to be hugging the can of soft wax for faster melting process. The diameter in a Hard wax warmer will be wider so the walls won't be hugging the can. You can still do it, however we recommend using the correct wax warmer. You will need to measure the diameter of your soft wax can and compare it to the diameter of the wax pot you are interested in purchasing.
To ensure the performance of our waxes, we strongly suggest using our wax pots.
Absolutely not, we do not recommend it, it can be very dangerous. Make sure at the end of your working day you unplug it.
Miss Cire offers the largest online selection in the market for wax machines. We carry small wax warmers for the new beginners and we also carry XL capacity. If you are offering body waxing services we don't recommend getting anything smaller than 5Lb. If you are a busy waxer with a busy schedule we recommend 10 Lb and up.
Yes, Miss Cire offers a wax warmer kit section that will be found under waxing kits,