8 Signs of a Clean or Dirty Salon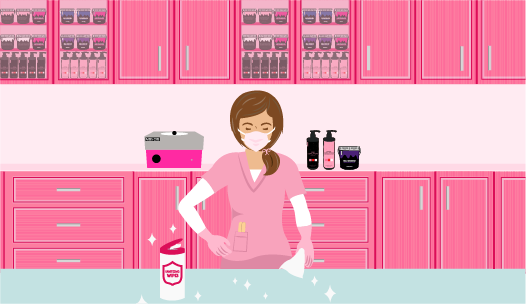 8 Signs of a Clean or Dirty Salon
Letting someone wax your most intimate areas takes a lot of trust. When it comes to waxing, a minor mistake can result in agonizing pain and other undesirable side effects such as irritated skin, redness, and even skin infections. Waxing is more than just looking and feeling beautiful; it's about your health as well. So, when it comes to choosing your salon and esthetician for a waxing appointment, you have every right to be selective.
Next time you go in for your waxing appointment, look out for these general signs that can indicate whether a salon follows the best hygienic practices.
Signs of Unhygienic and Unsafe Waxing
Things look dirty: If things look messy and dirty when you walk in, then walk out. Do you expect them to follow sanitary guidelines if they can't even do the basic cleaning?
Messy heating units: Again, this is a basic cleaning practice that every esthetician should be following. Estheticians should always clean all surfaces and equipment after each appointment. Dirty equipment is not only an ugly sight; it is a threat to skin health.
Double dippers: If you are not okay with people double-dipping their chips into your salsa, why would you be okay with estheticians double dipping their spatula? In fact, hair salons and beauty professionals could be fined for using single-use equipment and supplies more than once. This includes spatulas, waxing cartridges, cotton pads, gloves, and wax strips.
Bad sterilization practices: Waxing equipment that is not single-use should always be sterilized. These usually include metal items like tweezers. So, if you see your esthetician putting them back where they took them from, it's probably best you don't come back for another appointment.
Signs of Clean and Safe Waxing
Client consultation: Is your esthetician interested in finding out if you have any allergies or health conditions? Are they making you fill out a client questionnaire? If a waxing professional takes your health into account to ensure you can receive treatment, they will be better prepared to provide personalized service to meet your specific needs and preferences.
Cleanliness: Dirt and bacteria pose a significant risk to your health when they come into contact with sensitive skin and private areas of the body. That's why making sure a salon follows all necessary hygienic measures is so vital.
After wax care: A waxing appointment shouldn't end right after every unwanted hair is removed. Estheticians should always apply moisturizer and post-depilatory lotion, like Miss Cire, at no extra cost or without you having to ask them. A waxing appointment is not complete without the proper after wax care.
Product quality: Ask your esthetician about the products in their professional waxing kit. Do your research and make sure her products contain high-quality ingredients that help keep your skin healthy and smooth.
Ask Questions
If you get a funny feeling any time during the appointment, ask questions. If you are not sure what a product does, ask questions. If you have any doubts or concerns, ask questions. Your health is on the line, so you should never be afraid to ask as many questions as you want. A good esthetician will understand where your concern is coming from and they will be glad to guide you through the entire process.